A couple of days ago, there was severe weather across much of Belgium, the Netherlands, and Luxembourg (Benelux). This played merry hell with the very dense air traffic in northern Europe, with many flights diverted from their destinations. One other knock on effect is that bad weather reduces the operations capacity of an airport. An airport can accommodate half a dozen jet landings in 10 minutes in fair weather might be reduced to only two or three in bad weather. Worse still, bad weather will force missed approaches, further reducing the capacity.
This severe weather lead to some very close calls at Amsterdam's Schiphol International Airport.
[youtube https://www.youtube.com/watch?v=Nio38kxye-I]
[youtube https://www.youtube.com/watch?v=F9LruOa-hzA]
Wind shear is the phenomenon where a column of air is flowing down from a storm toward the ground. When that column of air hits the ground, it flows outward.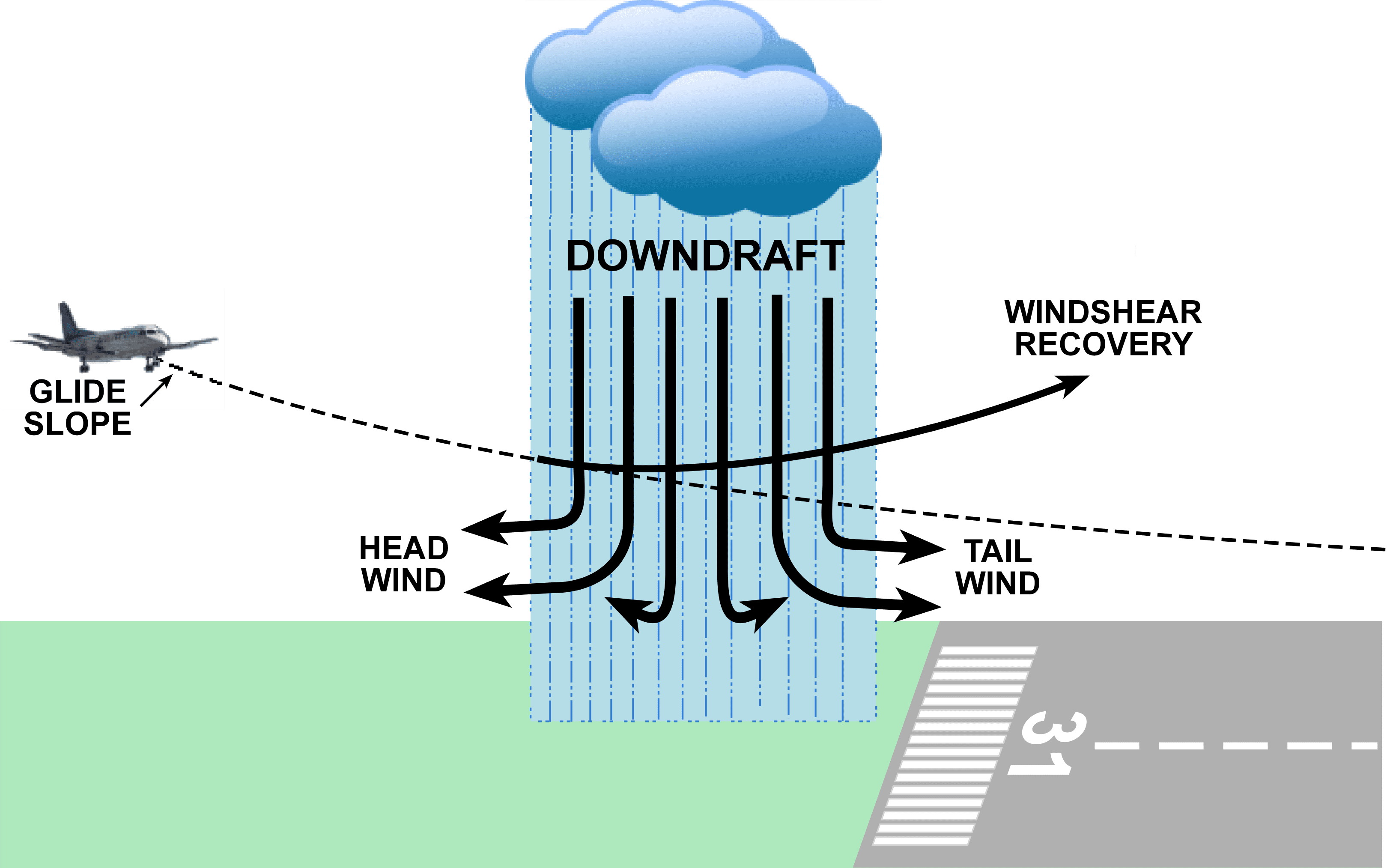 What happens is that an aircraft on approach, flying into this outward flow essentially suddenly has a major headwind component, and its indicated airspeed makes a sudden leap, say from 140 knots to 160 knots. Pilots on approach, being very sensitive to maintaining speed for landing, almost instinctively reduce power to reduce speed.* The problem is, as the jet passes through the column, while decelerating, they then encounter a very strong downward force, and worse on the far side, they suddenly find themselves traveling in the same direction of the outflow. That effectively removes the headwind component, and indeed, the tailwind component results in a sudden drastic drop in indicated airspeed, say from 160 knots to suddenly 120 knots. The problem is, a 737 won't fly at 120 knots.
Coupled with the downward vector imparted earlier, and the reduction of power, it is very easy for an airliner to be slammed into the ground well short of the runway, with disastrous consequences.
I'll leave it to Spill to describe the proper procedure for pilots that do find themselves in windshear.
The atrocious weather at Schiphol meant that Trasnavia wasn't the only airliner having trouble that day.
[youtube https://www.youtube.com/watch?v=02ddnGzxNZs?feature=player_embedded]
H/T to Airplane Pictures.
https://twitter.com/iLove_Aviation/status/626207186587287553
*Or worse, the autothrottles most airliners fly approaches with do it for the pilot and the pilot doesn't immediately grasp that they are flying into windshear.