The Corbin Foss will make a 140-day trip beginning in early August 2014, towing the USS Constellation 16,000 nautical miles from Bremerton, Washington to Brownsville, Texas where the aircraft carrier will be scrapped. The Corbin Foss' will make its inaugural voyage through the Straits of Magellan, moving the 61,000-dwt tow at about 6 knots.
via USS Constellation Tow Blog.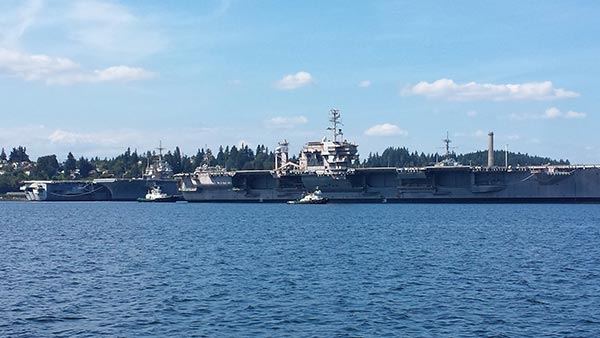 The ex-USS Saratoga isn't the only decommissioned carrier on her way to the breakers. The former USS Constellation is headed to Texas as well. Well known tugboat company Foss is blogging her journey to the cutter's torch.
From CV-59, the Forrestal, to CV-67, the John F. Kennedy,  the first generation of supercarriers has been retired. They served their nation well, and many thousands of sailors mourn their passing.
Forrestal is already at the breakers yard. America, CV-66, was sunk during classified weapons effects tests.
Some efforts are underway to save the ex-Ranger or another early supercarrier as a museum ship, but the daunting costs make it highly unlikely any will be spared.