May 14th marked the 60th anniversary of the rollout of Boeing's airliner research airplane often referred to as the "Dash 80." This airplane can take credit for revolutionizing the airline business and providing the military with a workhorse that continues in service today; that is the KC-135 refueling airplane. While the Dash 80 has a physical resemblance to the Boeing 707 airliner, they are not the same. Often referred to as the prototype for the 707; it was more of a research vehicle used for the development of the airliner.

Most followers of aviation history notice that this famous airplane was referred to as the Dash 80, and not the 707. This was intentional on Boeing's part to mislead the competition. Boeing's airliner in production at the time of the Dash 80 development was the piston engine powered model 377 Startocruiser. The Startocruiser was actually an offshoot of Boeing's model 367 which was the military transport designated the C-97. The actual designation of the airplane that became the 707 was the Boeing model 367-80 to disguise the fact it was a jet. This resulted in two names being applied simultaneously to the same airplane. Boeing technicians referred to their future airliner as the Dash 80, and the marketing side of Boeing referred to it as the 707.
via Happy 60th Birthday To The Boeing Dash 80 | Aero-News Network.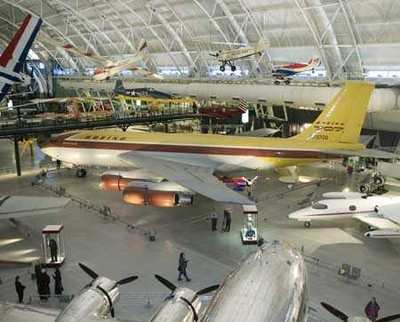 Happy Birthday indeed!
Virtually every commercial jet transport in service today owes a debt to the Dash 80. Boeing got so much right in this developmental leap that it echoes down to today.
One major difference between the Dash 80 and the production commercial 707 was the circumference of the fuselage. The 707 is a good bit wider. The KC-135, however, still uses the narrower body of the Dash 80, primarily because the US Air Force was in a hurry to get the KC-135 into production and service, and unwilling to wait for the development of the wider 707.