Well, we knew the Air Force's primary aim in involving themselves in the C-27J Spartan airlifter program was to deny the Army any fixed wing intra-theater air. And they've succeeded.
But of course, that's only after they'd signed a $2bn or so contract for the airplanes. And since they've been bought, they're being delivered. But since the Air Force won't operate them, they're putting brand spanking new airframes into storage at Davis-Monthan.
The Pentagon is sending $50 million cargo planes straight from the assembly line to mothballs because it has no use for them, yet it still hasn't stopped ordering the aircraft, according to a report.

A dozen nearly new Italian-built C-27J Spartans have been shipped to an Air Force facility in Arizona dubbed "the boneyard," and five more currently under construction are likely headed for the same fate, according to an investigation by the Dayton Daily News.  The Air Force has spent $567 million on 21 of the planes since 2007, according to purchasing officials at Dayton's Wright-Patterson Air Force Base. Of those, 16 have been delivered – with almost all sent directly to Davis-Monthan Air Force Base in Tucson, where some 4,400 aircraft and 13 aerospace vehicles, with a total value of more than $35 billion, sit unused.

The C-27J has the unique capability of taking off and landing on crude runways, Ethan Rosenkranz, national security analyst at the Project on Government Oversight, told the newspaper. But with sequestration dictating Pentagon cuts, the planes were deemed a luxury it couldn't afford.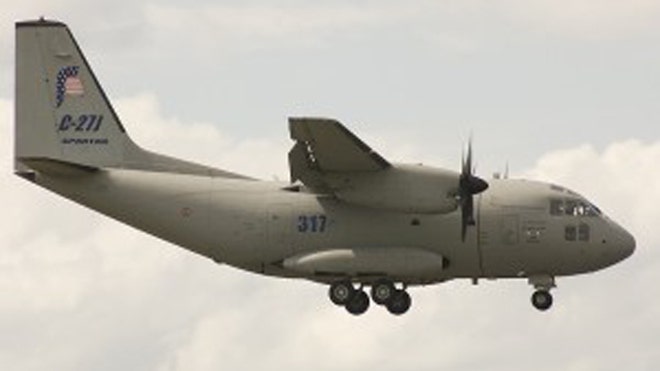 At this point, it's too far gone for the Army to find the troop strength and aviator numbers to field the force.  And the Air Force almost certainly can't sell them to private users or foreign governments, because the manufacturer, Alenia Aermacchi, has stated publicly they will boycott spares and support to anyone who buys these airframes. They don't want the potential markets to buy used what they could be building new.
So most likely, other, non-DoD departments of the government will end up with them. Already there's word the Coast Guard and the Forest Service will end up with some, and I heard today one in State Department markings has been spotted.
But the Army still doesn't have the airlift it needed, and still needs, when it first selected the Spartan almost a decade ago.